On The Road Again & My New Hero!
I am off to Huntsville today. It has been a while since I traveled out of town on business. I am still at corporate and have not yet moved over to the branch. So off I go.
During the coming week, I may not be around to your blogs quite as much as usual. My days are going to be
packed
, and I'll likely be out to dinner every night and I'm not sure when I'll be getting back to the hotel.
I will still be posting every day, though, and responding to your comments.
It is a horrific drive today that will take about eight and a half hours. Don't even mention planes. You know how I am.
But I like to drive, and I figured I would take notes with the recorder on my PDA and blog about the trip on Monday. I don't know if I can make a long car trip interesting but I'll sure try.
You know, if any of you guys loved me you would come and help me out. I mean there is
a lot
of work to be done. I am probably not even going to have the time or energy for any hookers and blow. So you
know
Mr. Fab be gettin' some serious work done.
Did I just talk about myself in the third person?
I got a Chevy Impala for my rental car. Nothing special. The girls at the counter would have upgraded me, but they didn't have anything cool. I bring a ton of stuff when I go on the road. A huge suitcase, my dress clothes, my work laptop, my personal laptop, and a case of water. Who travels that heavy for a week? I'm like friggin' Diana Ross for crying out loud.
Wait till I unpack. I'll show you my toiletry bag. You will be
convinced
I am gay.
Ha! My grocery receipts are better than yours!
That was the subject line on an email I got yesterday. It was from the always fabulous
Attila the Mom.
And you know what? She was absolutely right. Check out these beauties: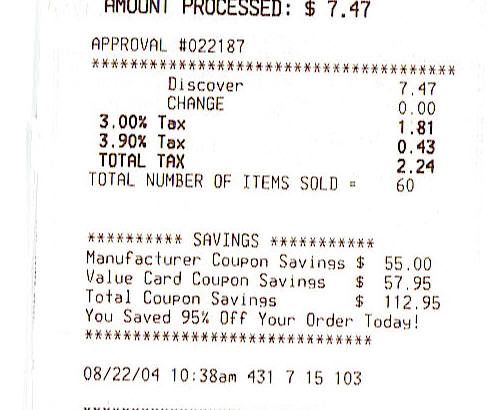 Well, it looks like I can't get the middle one to show up as the right size, but she saved 98% on that one.
What is up with that? They pretty much eat for free at her house!
I asked her how she did it, and this is how she responded:
It's almost obscene, isn't it? LOL Those were my three "absolute best" so far. Normally I hit 60-80% off.
She is my new hero. She is stickin' it to the man!
I don't know if I will ever be able to go grocery shopping again. I don't feel worthy.
Okay, gotta have breakfast and start packing. Have a good day, y'all.